Integrated by DeGeest
---
The DeGeest Connection
DeGeest Corporation is a metal fabrication company located in Tea, South Dakota. With a focus on large steel production weldments for Original Equipment Manufacturers across multiple industries, the company sought to bring automation to its finishing process for greater efficiency and to eliminate a growing bottleneck in production.
After a lengthy search, the company discovered Lesta near Milan, Italy. Knowing other North American manufacturers shared the same frustration, the two companies formed a new entity – LestaUSA.
Today, LestaUSA is a product integrated by DeGeest Corporation. The company's facility in Tea, South Dakota is home to LestaUSA, where robots are designed, built, and integrated for distribution across North America. Research and development are also done at this location.
Integration Checklist
We believe finishing integration is more than just providing a robot that sprays parts. From assessment and system design, all the way through integration and support, you'll have peace of mind knowing your solution was born in a production environment and tested by a team that uses what we sell every day.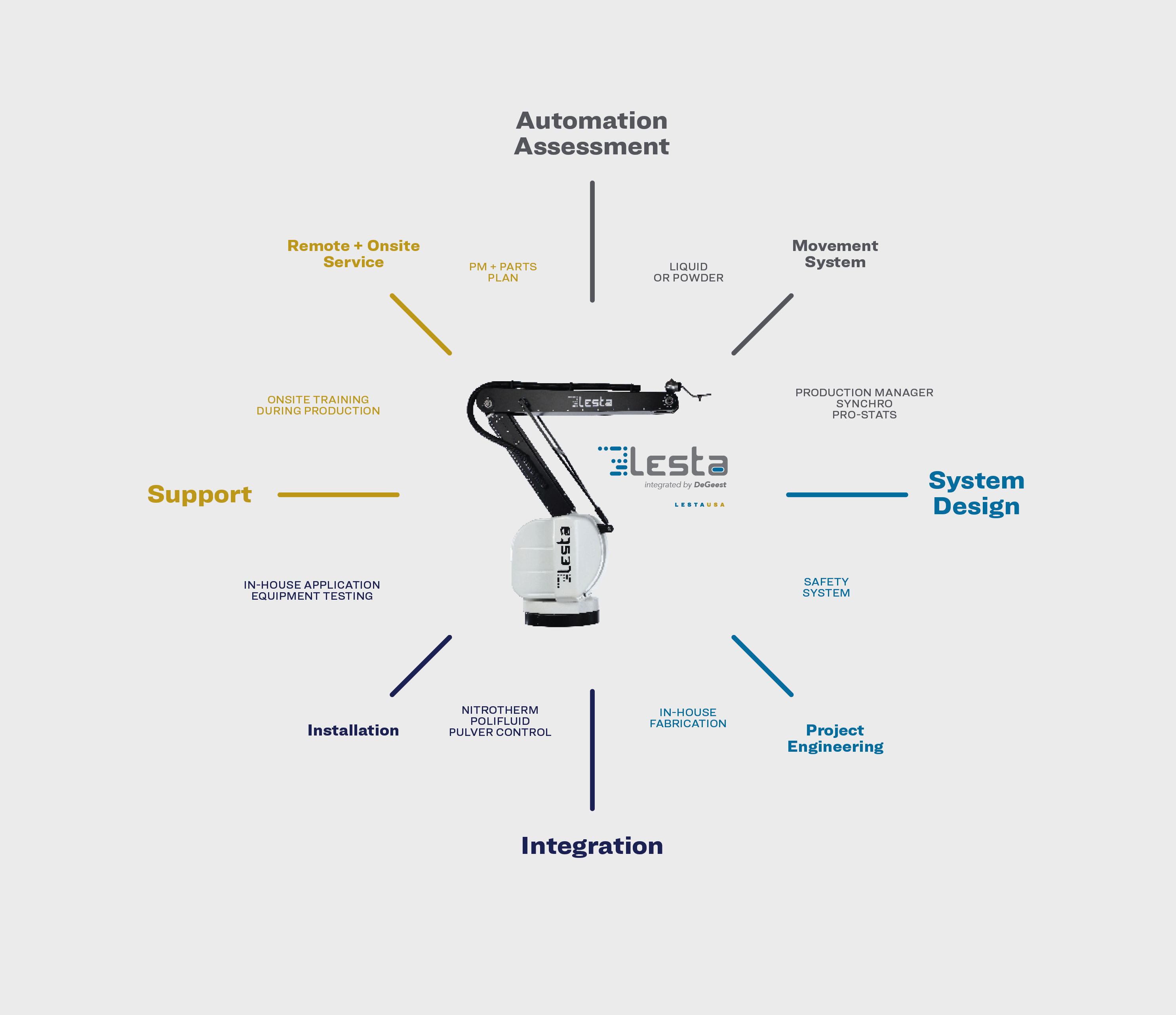 Leading Manufacturing Forward
LestaUSA customers benefit from the peace of mind of knowing our partnership can deliver in-house design, manufacturing, integration, and support for our solutions across the USA and Canada. This approach has made us the leader for integration of self-learning robots in North America.
1st self-learning robot in North America
1st + Only NRTL certified self-learning robots for hazardous environments
1st to use self-learning robots in a production environment
1st self-learning robot center for R&D, Test Labs, and integration
1st + Most self-learning robots integrated into a continuous conveyor line
1st + Most self-learning robots integrated into a power and free conveyor line
1st + Most self-learning robots integrated into batch booths
1st + Most self-learning carousels installed
1st + Most self-learning gantry robots installed
1st + Most self-learning robots & software integrated with autonomous carts
1st + Most multiple robot systems installed
1st + Most self-learning repeat customer orders
1st + Most integrated automatic production management software for conveyor line management
1st to develop production monitoring software for system optimization + training
1st self-learning robots integrated with automatic powder systems for pre & post touch up
1st self-learning robot system integrated with tip cleaning
1st + Only self-learning system introduced in the world with suction blow-off solution
1st + Most industry equipment company partnerships
1st + Most distributor partnerships
1st system integrated with Wagner Venturi powder equipment and 1k & 2k systems w/ full gun control
1st system integrated with Nordson Venturi & HD powder equipment
1st system integrated with Gema Venturi powder equipment
1st system integrated with Graco with pressure pot, 1Ke and 2ke w/ full gun control
1st system integrated with Sames Kremlin 1k and 2k systems w/ gun control
1st system integrated with Carlisle 2k systems w/ full control
1st + Most service plans provided to customers
1st + Most customer service renewals after 1-year warranty
Most self-learning robots in North America